Mental Health
We believe that mental illness is both common and treatable.
Envision Unlimited is a certified Community Mental Health Provider offering a full complement of behavioral health services to people with a variety of mental health concerns. We are committed to assisting clients their best and meaningful lives. 
Core Services
Screen and Assessment. All clients receive a comprehensive assessment that determines the identification of behavioral health disorders consistent with DSM-5 and ICM-10.  The document that we used is the Illinois Medicaid Comprehensive Assessment of Need and Strengths (IM+ CANS). 
Treatment Planning. Clients and staff complete the Integrated Assessment and Treatment Planning (IATP), which is an integrated service plan that ensures an individual's assessment of needs and strengths are clearly documented and lead to specific treatment recommendations and review of information to formulate a diagnosis and service interventions. The IATP must be completed once every 180 days. 
Care Coordination. Our nurses and care coordinators work with individuals with mental illness to access a range of different medical, psychiatric, substance use treatment together with other services addressing the social determinants of health. in a way that helps them get better and works towards their recovery. It involves interactions between different clinicians and health care providers, the individual, family members, and other significant persons.  Our goal is to improve the health and functioning of people with mental health problems. It is especially helpful for mental health consumers who have complex mental and physical health care needs, previously living in long-term care settings and transitioning to the community. These individuals are particularly at risk of 'falling through the cracks' because they are involved with multiple agencies and individuals who are helping to address their care needs.  Therefore, we work with multidisciplinary teams, psychosocial support providers and self-management, in addition to clinical treatment.
Therapeutic Services
Counseling
Crisis Intervention
Crisis Stabilization
Psychiatric Services
Psychiatric Hospitalization
Community Support
Outpatient Clinic
Nursing Services
Client-Centered Consultation Case Management (CM)
Mental Health Case Management
Transition, Linkage and Aftercare Case Management
Assertive Community Treatment (ACT)
Individual Placement and Support (IPS)
Medication Monitoring and Training
Substance Use Disorder Treatment
Community Support Team (CST)
Learn more about these services here.
To take advantage of our services, call our intake coordinator at 773-506-3161.
---
Client Non-Discrimination Policy
It is the policy and practice of Envision Unlimited's Ravenswood Mental Health Center to not discriminate in the provision of health care services to an individual:
Because the individual is unable to pay for the health care services;
Because payment for those services would be made under Medicare, Medicaid, or the Children's Health Insurance Program (CHIP); or
Based upon the individual's race, color, sex, age, national origin, disability, religion, gender identity or sexual orientation.
No one will be denied access to services due to inability to pay, and there is a discounted/sliding fee schedule available based on family size and income.
Consider applying for our sliding fee discount program.            
Download application here.
Leadership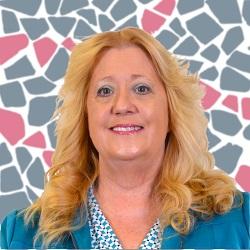 Jean Xoubi Senior Vice President of Mental Health and Business Development
Jean has a depth of experience in social service management with an emphasis on program development, quality improvement, and fiscal management. She is a Licensed Clinical Professional Counselor and has been Lean Six Sigma trained. Jean specializes in Mental Health Services, Medicaid billing, and Child Welfare programs. Prior to joining Envision in 2018, Jean spent more than 15 years in various management roles with Metropolitan Family Services. She has an MA in Psychology and a BA in Psychology & Elementary Education from Governors State University.