Executive Team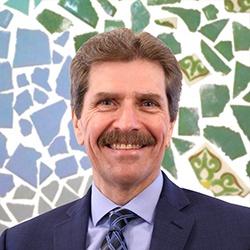 Mark McHugh President and Chief Executive Officer
Mark McHugh is an experienced senior executive with an established track record of achieving successful growth and positive outcomes for a number of innovative human service nonprofits.  Under his leadership as President and Chief Executive Officer, Envision Unlimited has experienced significant growth in service delivery breadth and depth, including expansion of programming into Central Illinois, the addition of innovative new residential options, and an emphasis on social enterprise in creative spaces such a shared commercial kitchen and robust partnerships in the arts. He is a fervent advocate in promoting choice, independence and inclusion for people with disabilities.
Mark came to Envision Unlimited from One Hope United, where he served as Chief Operating Officer.  Additionally, Mark has experience as the Executive Director of the Midway Center for Metropolitan Family Services and as the Director of Operations/Director of Child and Family Services for Christopher House.
Mark holds master's degrees in Social Work and Education, and a bachelor's degree in Sociology, from the University of Illinois at Chicago.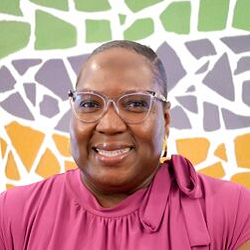 Chrisonia Butler Secretary Ex-Officio
Chrisonia has been part of the Envision family for more than 20 years, serving in various roles within the organization's Facilities, Human Resources, and Development departments. In her current position, Chrisonia serves as Secretary and ex-officio member of Envision's Board of Directors. Chrisonia is a graduate of Southern Illinois University and a seasoned volunteer with multiple Chicago nonprofit organizations.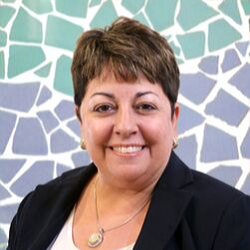 Donna Ennis Vice President of Community Living, Home-Based and In-Home Respite Services
Donna has worked to support people with intellectual and developmental disabilities and their families for more than 30 years. In her current position, Donna oversees residential services for Envision clients, which include 24-hour CILA (Community Integrated Living Arrangement), Intermittent CILA, Host Family, and Home- Based services. Donna has a BS in Social Work and Criminal Justice from Loyola University of Chicago and an MSW from the University of Illinois at Chicago.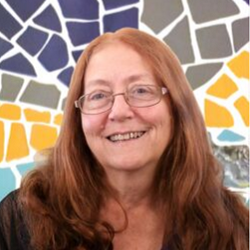 Susan Gardner Vice President, Day and Employment Services
Before joining Envision Unlimited in 2009, Susan worked in the field of special education for 20 years; she first served as a school principal, and later, as directing educational and therapeutic programs and services. Susan holds an MA in anthropology, is a Qualified Intellectual Disabilities Professional, and has completed 24 graduate hours in special education.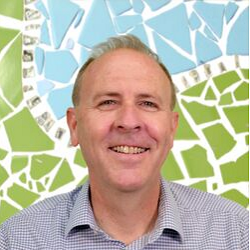 Daniel Kennedy Director of Property Management
Dan has worked in Envision's Facilities Department for more than ten years. In his current role, Dan oversees maintenance activities at all Envision centers and homes, as well as the organization's fleet of vehicles and internal logistics. In addition, Dan spearheads Envision's real estate activities, identifying and negotiating leases/ sales of both commercial and residential spaces. He holds an accounting degree from Northeastern University.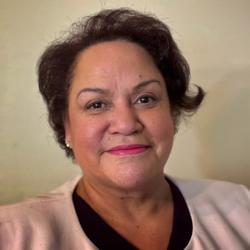 Lauren Smith Chief Human Resources Officer
Lauren joins Envision Unlimited with more than 30 years of human resources experience in a variety of sectors: finance, entertainment, engineering & manufacturing, and education. Lauren recently was a human resources executive at a non-profit organization, where her emphasis was on strategic leadership, employee engagement, operational effectiveness; and diversity, equity, and inclusion.
Lauren holds an Education Specialist (EdS) degree from Western Illinois University, a master's degree in organizational management, and a bachelor's degree in business management from the University of Phoenix. She also earned a Master of Jurisprudence in Labor and Employment Law degree from Tulane University Law School.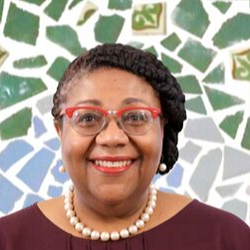 Betty Jackson Chief Diversity, Equity and Inclusion Officer
Betty has dedicated her professional career in service of people with intellectual and developmental disabilities. She has been with Envision since 1988, serving in a variety of program management roles. Betty is a Surveyor for the Commission on Accreditation of Rehabilitation Facilities (CARF), and has served on the Boards of Directors of the Child Care Association of Illinois and Children's Place Association – the latter at which she served a term as Board Chair. Betty holds an MSW from The University of Chicago and a BA in Liberal Studies from Mundelein College of Loyola University.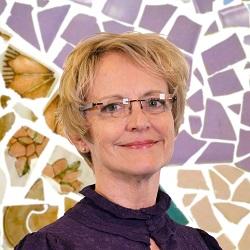 Marty Kenahan Senior Vice President of Donor Engagement
Marty's work to support people with intellectual and developmental disabilities began when her younger brother was born with Down Syndrome. She has enjoyed contributing to a wide variety of activities in support of people with disabilities over the years and recently founded a partner volunteering organization for people with and without disabilities to engage with local nonprofit organizations. Marty is an avid Buddy Biker with Team Envision and oversees all marketing, public relations and fundraising initiatives for Envision Unlimited. She has a BA in American Studies from the University of Notre Dame.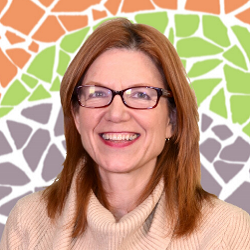 Colleen Rosa Senior Vice President, Intellectual and Developmental Disabilities (IDD) Services
Colleen Rosa has more than 25 years of experience in the field of Intellectual Disabilities and Mental Health.  Prior to Envision Unlimited, Colleen worked for Neumann Family Services. There she served in a variety of roles including Director of Residential Services, Training Director, Director of Development and Quality Assurance Manager.  Her dedication to the field was shaped in large part by her older brother's diagnosis of schizophrenia. Colleen holds a BA from Cornell University.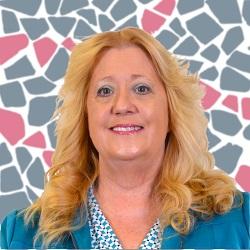 Jean Xoubi Senior Vice President of Mental Health and Business Development
Jean has a depth of experience in social service management with an emphasis on program development, quality improvement, and fiscal management. She is a Licensed Clinical Professional Counselor and has been Lean Six Sigma trained. Jean specializes in Mental Health Services, Medicaid billing, and Child Welfare programs. Prior to joining Envision in 2018, Jean spent more than 15 years in various management roles with Metropolitan Family Services. She has an MA in Psychology and a BA in Psychology & Elementary Education from Governors State University.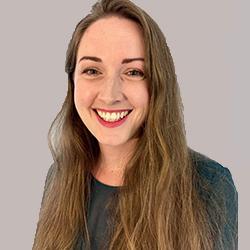 Angela Isit Director of Quality Assurance
Angela's inspiration to work in the intellectual and developmental disabilities field began at an early age through her close relationship with her uncle, who has Down syndrome. Angela graduated with a bachelor of arts in Sociology from North Central College in Naperville and has been in the intellectual and developmental disabilities field for nearly 15 years, serving most of that time at Envision Unlimited.
Angela has worked in several roles at the agency. Starting as a home-based services facilitator, she grew her career as an OIG liaison, quality assurance manager, associate director of quality assurance, and now, as the director of quality assurance.
Program and Service Contacts
Mental Health
Intake: 773.769.4313 x431
Main phone: 773.769.2139
Specialized Foster Care
773.358.6940
Applied Behavior Analytic Services
Danielle Walters
Business Services
Please contact us using our online form