In previous years, we were only able to sample our participants for their feedback on our programs. This year, we were able to leverage our electronic database and conduct satisfaction surveys with every member in every program. Below is their feedback: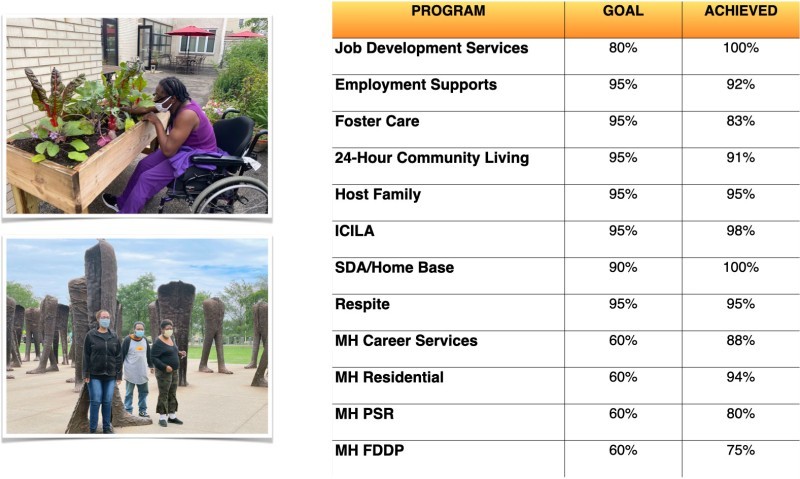 Members and families also had the opportunity to add comments to their survey. Here is a sample of the comments:
Mental Health Program
Having art therapy helps me manage my coping skills and also increase my self-esteem.
Glad the staff are present and here to help. Glad the staff are respectful and patient. Glad to not be homeless anymore, and there is peace of mind and increased confidence.
The program is wonderful and I am glad there is someone always here to talk to.
SDA/Home-Based Program
I appreciate the HB program and my assigned facilitator who keeps you informed. My facilitator is patient with me and overall very kind and easy to work with.
I love, love, love my SDA.
I love my SDA. She really takes good care of us. She really knows what she is doing and she is not afraid to find out things and ask questions. She helps with everything.
Host Family Program
I like my host family. She treats me nice, she's a wonderful lady. She respects me.
Community Living Program
I feel that I am getting good services. Keep on doing what you are doing. Staff does a good job.
If I need someone to talk to, staff is here to help me.
Feels safe and happy at home where she doesn't have to worry about bullies.
Job Placement Program
Really appreciates when the job coach assisted with booking a vacation to go visit a friend in California. She always goes beyond just job coaching for us.
Very pleased with her job coach. When she needs to talk the job coach listens, when she needs help she is there. She's pleased with the services she gets from EU job placement.
I really enjoy my job that EU got for me I also enjoy talking to my job coach when she visits me.
In addition to our member satisfaction surveys, we also surveyed our four employers. Their responses reflected 100% satisfaction in the following areas:
The EU members working at their company
The job coaches are responsive to client personal issues or problems
The job coaches are responsive to work-related issues or problems
Assistance is provided in a timely manner
Our clients interact appropriately with others in the workplace
Our staff conduct themselves in a professional manner
Clients are appropriately prepared for the job
Additional Questions: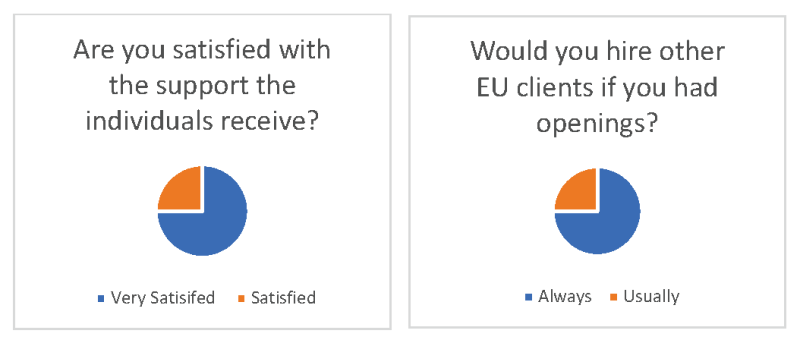 The four Job Placement DRS Case Managers' responses were 100% satisfied in the following areas:
Satisfaction with the services you receive from Envision Unlimited
Staff conduct themselves in a professional manner
Receive required information in a timely manner