Our staff is the best. That includes everyone from our direct service providers who care for our members to our clinical therapists in Mental Health Services, and from our program directors at our Day Centers to our board-certified behavior analysts in Autism Services.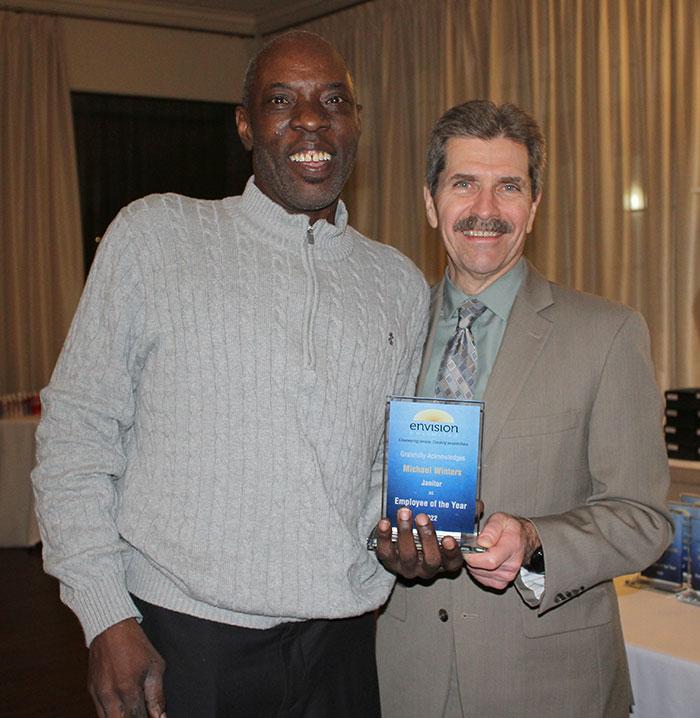 In mid-November we celebrated the dedication and hard work of the best of the best at the Employees of the Year Awards at the Beverly Country Club. Full-time staff members who have been with the agency for more than a year, who show a strong work ethic and go above and beyond on the job were nominated by their supervisors.
For the first time a member--a person who accepts client services through our IDD program--who also happens to be a staff member, was recognized.  According to his supervisor Sean Parker, Michael Winters, janitor at Lewandowski Family Center, was teary-eyed and extremely grateful. "Mr. Parker, Thank you so much. Nothing like that has ever happened to me", Michael said.
President and CEO Mark McHugh presented 36 awardees with a plaque and $100. Then the dancing began. A good time was had by all.
This year's awardees include:
Alicia Durr - House Manager, Williams Colbert Program
Andrea Salas - Program Coordinator, Community Day Services
Angelica Pennington - House Manager, Community Living Specialist
Bethel Wooten - Rehabilitative Service Aid, Cluster Housing
Catherine "Caty" Harris - Assistant Director, Transitional Programming
Danielle Gender-Waters - Manager, Board Certified Behavior Analyst
Debra Montgomery - Director, Child Welfare Services
Erica Hall - Community Living Specialist
Ericka Matthews - Community Living Specialist
Ericka Thomas - House Manager, Community Living Specialist
Garyn Richard - Program Coordinator, Community Day Services
Habiba Ramey-Green - Benefits Supervisor, Williams Colbert Program
Jade Chappell - Board Certified Behavior Analyst
Jameera Jackson - Manager of Operations, Board Certified Behavior Analyst
Katrina Grady - Case Manager, Community Living Specialist
Latonia Young - Lead Community Living Specialist
Leticha Watson - Community Living Specialist
Linda Bruggerman - Program Services Information Coordinator
Luc LaLanne - Supervisor, Maintenance
Marilyn McKenzie - Rehabilitative Service Aid, Cluster Housing
McKisha Davis - Direct Service Provider
Melson Murry - Registered Behavioral Technician, Community Living Specialist
Michael Winter - Janitor, Community Day Services
Monica Turpeau - Program Coordinator, Community Day Services
Portia Paschal - Lead Community Living Specialist
Reyanna Johnson - Training Counselor, Community Day Services
Romanita Harris - Human Resources Assistant
Rosemary Vermeulen - Community Living Specialist
Sarah Tate - Outreach Engagement Specialist, Front Door Program
Shannon Vogel - Occupational Therapist, Williams Colbert Program
Tawanda Miller - Vocational Facility Director, Community Day Services
Tierney Burton - Lead Community Living Specialist
Treena Smith - Residential House Manager, Mental Health Services
Valerie Ford - Lead Community Living Specialist
Wendy Anderson - Program Coordinator, Community Day Services
Zhontrel Payne - Community Living Specialist