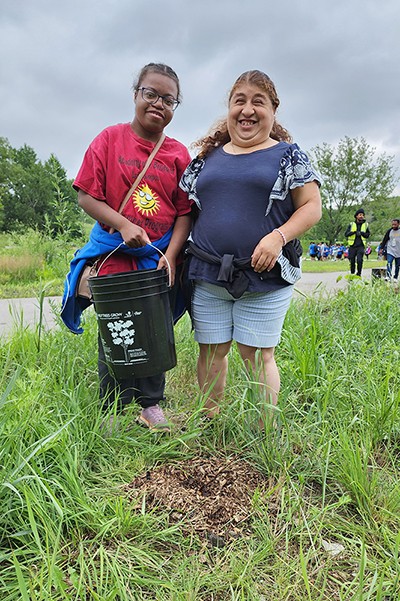 Our members wear many hats. They're talented artists, savvy salespeople and wonderful stewards of their communities. So far this year, they have participated in multiple stewardship events across the city. They watered newly planted trees and removed invasive species at Big Marsh Park and gathered garbage along Montrose Beach.
"From my perspective, these events are very successful," said stewardship events organizer David Pufundt, noting how each event has reached volunteer capacity. "All of these are unique experiences, and they allow our members to have an impact on an area that they use. Literally, these areas look different when we are done."
The story starts at Big Marsh Park, one of our Buddy Biking locations, back in 2019. At the time, the park was basically just a large field of wet land, lacking a field house and other amenities. Through Buddy Biking, Envision Unlimited developed a relationship with park district staff and attended its first stewardship event. The park district considered it a huge success and has since invited Envision Unlimited to participate in additional offering
Each opportunity also benefits our members in many ways. They get to interact with nature, develop new skills and measure their accomplishments
Several more stewardship events are slated for the rest of the year. Keep an eye out for our members at 12th Street Beach, Humboldt Park, Northerly Island and Marquette Park!