Across Chicago, essential workers have stepped up to keep businesses open to serve the community. This includes Joel, an Envision Unlimited member, who works at a Jewel Osco grocery store in his neighborhood. Joel lives with his parents, who are his primary caregivers —unfortunately, due to the COVID-19 pandemic, Joel became the sole provider for his family.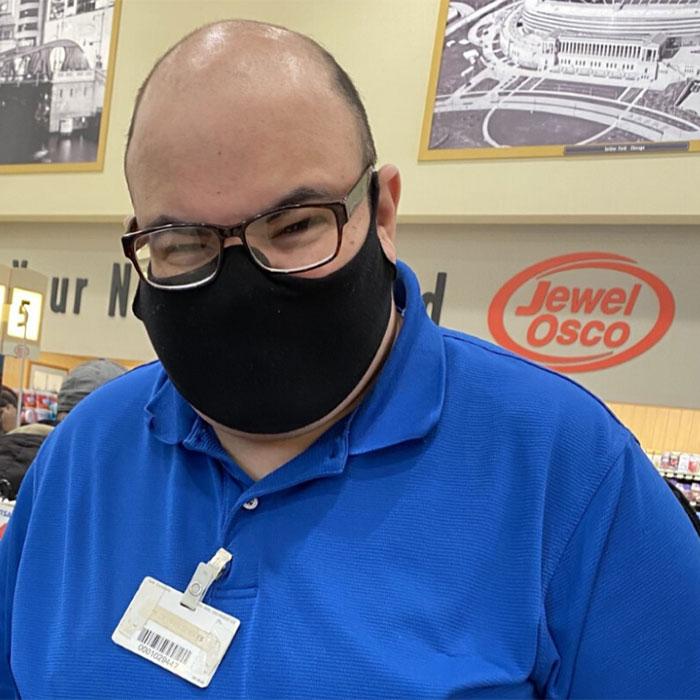 Joel's case manager, Briana performs wellness checks three times a week with Joel and his family to help support them during these difficult times. These wellness checks help ensure that Joel and his family remain healthy while he continues to pursue his career goals. 
During one of these visits, Briana discovered Joel couldn't afford the PACE Paratransit to get to work. Briana immediately responded to Joel's needs by gathering a month's worth of PACE vouchers and delivered them to him that afternoon. During the delivery, Briana was able to interact in-person with Joel and his mother for the first time in almost a month. Although a window separated them, Briana remarked that "seeing Joel was the highlight of my week." 
While performing a wellness check at Jewel, Briana noticed Joel's mask was ill-fitting and falling below his nose. Immediately, Briana spoke with Joel and his mother to let her know that Joel was not wearing his personal protective equipment (PPE) correctly, which could put him at a greater risk. Briana helped train Joel on how to properly wear his mask and was able to obtain a few extra masks for Joel- that were donated to Envision by the community.  
Joel's need for training on how to properly wear a mask highlighted to the Envision Rose Center staff that other members might need help and training as well. They began facilitating Health and Safety groups via Zoom which focus on the proper use of PPE, the correct way to wear masks, how to put on and take off gloves, and proper handwashing techniques. 
Joel is making Envision Unlimited proud as an exemplary essential worker, and by living Envision's mission of choice, independence, and inclusion! Thank you to Briana and all the staff who have helped support members during these challenging times!