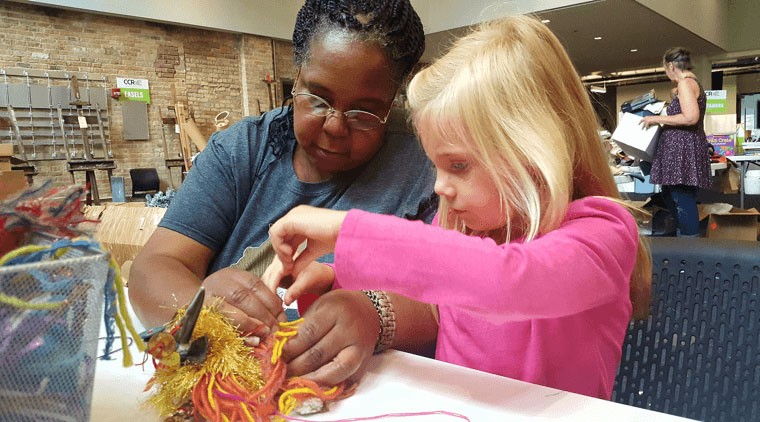 The Envision Arts Studio Program was built on the concept that artists with intellectual and developmental disabilities can maintain a disciplined practice and artistic independence in a community setting. It provides artists with opportunities to exhibit and sell their work, receiving both recognition and financial compensation. The studio holds an annual gallery showing and numerous clients have become working artists, with products featured and sold at trade shows, art galleries, and festivals throughout the year.
For more than a decade, the Art Studio Program has fostered the development of social and technical skills that allow clients to more fully engage in their vocation, integrate into the community, and ultimately enrich their lives. Not only has this fulfilled Envision's mission, it has also inspired surprising new directions for both the clients and the agency.
Two Dimensional Art
Artists choose their own medium: watercolor, acrylic and oil painting, drawing, and printmaking. Much of the art created in the studio is matted and presented in re-purposed frames that are lovingly restored right in the studio.
Textile Arts
Fiber manipulation, including hand weaving, decorative embroidery, natural fiber spinning, rug hooking, and soft sculpture construction, results in recycled textile animals, dolls, woven items, and rugs bursting with vibrant colors and lush textures. The Art Studio Program boasts a Saori weaving loom as well as four other looms at various agency facilities.
Collaborative Quilting
Much like the quilts of yesteryear, these kaleidoscopic patchworks are made in chatty, social group settings not unlike old fashioned "quilting bees." With many pairs of skilled eyes and hands selecting fabrics, cutting patches to size and stitching together ladders of brightly colored strips, creating these gems is meaningful and expressive work. The quilts are environmentally friendly, utilizing fabrics re-purposed from clothing and linens salvaged from second hand shops, along with African wax print cottons sourced from Mali.
Ceramic Construction
The Judy Henry Ceramic Center offers classes in hand building, wheel throwing and tile making as well as mosaic design and installation. A growing number of artists are becoming pottery enthusiasts, mastering techniques in creating professional, quality work.