Has your child been diagnosed with
Autism Spectrum Disorder?
According to the latest statistics from the Centers for Disease Control (CDC), 1 in every 44 children has been identified as having an Autism Spectrum Disorder (ASD). The sooner a child receives therapy, their immediate and long-term outcomes are likely to improve.
Envision Unlimited offers in-home Applied Behavior Analysis (ABA) therapy for children between the ages of 2 and 17 who have been diagnosed with ASD.

Envision's accredited ABA Therapy programs support
autistic individuals from childhood through adulthood.
Through individualized treatment plans that can address adaptive learning skills, daily living skills, and communication skills, our ABA Therapy team strives to improve the quality of life for the child, family, and community at large. Envision has decades of expertise and experience working with autistic individuals.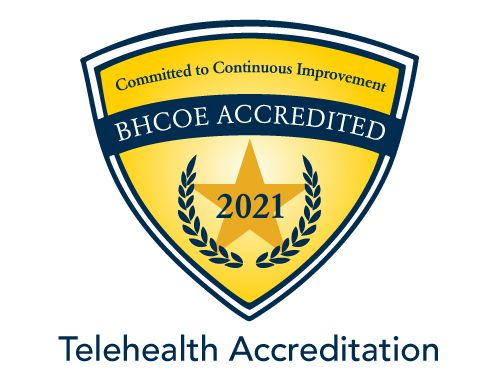 We are accredited to deliver Telehealth services, which not only was a critical delivery method during the height of the Covid-19 pandemic, but it enables us to provide therapy to every community in the Chicago area.
Telehealth eliminates the need for a commute, which might be inconvenient or time-consuming. It continues to be a safe, convenient way for children and families to progress with their therapy and maintain their relationships with our behavioral professionals. Learn more about ABA Therapy.
What Are the Goals of ABA Therapy?
Improved behaviors in school settings;  

Learning and maintaining self-control and self-monitoring procedures;  
Ability to generalize or transfer behavior from one situation to another; 

Reduction in aggressive behaviors.   
When should ABA Therapy begin?
Experts recommend beginning therapy as soon as possible after an ASD diagnosis. Our clinical intake process begins when you call us. After we have verified your insurance coverage or discussed a self-pay arrangement, we will authorize and schedule an in-home assessment with one of our Board Certified Behavior Analysts (BCBA.
The BCBA will develop a treatment plan exclusively for your child and will train a second specialist, a registered behavioral technician (RBT), to implement that plan in your home for 3 to 30 hours per week. Your child's progress is routinely measured and reassessed. Your BCBA will supervise the RBT, observe some of the therapy sessions (either in person or via telehealth), and offer feedback. If necessary, the plan will be adjusted to maximize success.
Get Your Autism Questions Answered
To request more information or to enroll your child, email Danielle Walters, Ph.D., or Jameera Jackson at ABATherapy@envisionunlimited.org or call: (872) 895-7942. You will receive a response within one (1) business day.
ABA therapy is covered by private insurance carriers: Aetna, Blue Cross Blue Shield of Illinois (inc. Community Health Plan), Cigna, Magellan, and Tricare. Other private insurance carriers may be considered.