Has your child been diagnosed with Autism Spectrum Disorder?
According to the 2020 statistics from the Centers for Disease Control (CDC), 1 in every 54 children has been identified as having an Autism Spectrum Disorder (ASD). 
Envision Unlimited is now offering in-home Applied Behavior Analysis (ABA) therapy for children between the ages of 2 and 17 who have been diagnosed with ASD.
ABA is an evidence-based science that is based on the study of learning and behavior.  As a treatment for autism, ABA therapy is widely accepted by healthcare professionals and can be used in-home, at school, and in treatment centers. ABA therapy encourages positive behavior change and teaches the necessary skills that children need to be successful in a variety of domains, such as social communication and interaction with others.
Our program has proudly earned preliminary accreditation from the Behavioral Health Center for Excellence (BHCOE)
Envision Unlimited aspires to provide successful outcomes for the families in our care. Through individualized treatment plans that can address adaptive learning skills, daily living skills, and communication skills, our team strives to improve the quality of life for the child, family, and community at large.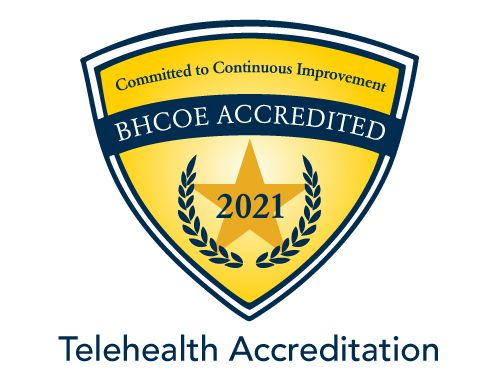 We also are accredited deliver Telehealth services, which has become such a critical delivery method during the Covid-19 pandemic. Telehealth enables children's therapy to continue without interruption and helps them conveniently and safely continue to make progress during the Covid-19 and maintain their relationship with our behavioral professionals. 
ABA Goals for Children
Improved behaviors in the school setting such as attending to/completing tasks, initiating/sustaining social interactions with peers, requesting breaks when needed, and gaining self-control;

Learning and maintaining executive functioning skills such as self-control and self-monitoring procedures;  
Ability to generalize or transfer behavior from one situation, response, or individual to another; 

Reduction in aggressive behaviors, such as those that would lead to self-injury, harm to others, or property destruction.   
How It Works 
Our clinical intake process begins when you call us after your child's autism diagnosis and submit the necessary forms detailing your insurance eligibility or self-pay fee schedule. After we have received the documents and verified insurance coverage or discussed the self-pay arrangement, we will authorize an initial assessment (for insurance purposes), then schedule that in-home assessment with one of our Board Certified Behavior Analysts (BCBA).
The BCBA will create a treatment plan for your child. The BCBA will train a second specialist, a registered behavioral technician (RBT), to implement the plan in your home for 3 to 30 hours per week. Your BCBA will remain involved, supervising the RBT, observing some of the home sessions (either in person or via telehealth), and offering feedback. Your child's progress is routinely measured and reassessed. If necessary, goals are adjusted depending on your child's needs.
To request more information or to enroll your child, email Danielle Walters, Ph.D., or Jameera Jackson at ABATherapy@envisionunlimited.org. Or call: (872) 895-7942. You will receive a response within one (1) business day.
ABA therapy is covered by private insurance carriers: Aetna, Blue Cross Blue Shield of Illinois (inc. Community Health Plan), Cigna, Magellan, and Tricare. Other private insurance carriers may be considered.